What I'm Reading Now: We Rule The Night
What would you sacrifice to protect your country, your family, and your friends? What would you do if you couldn't protect all of them?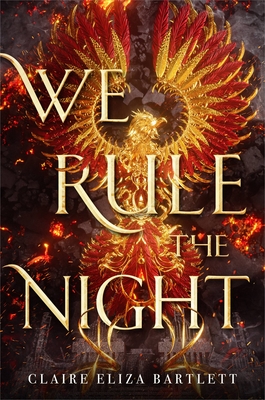 These are the questions at the center of We Rule The Night by Caire Eliza Bartlett, a book that was so very good that I'm going to have to make a lot of lists in the course of this review to handle all my feelings. Here's the cover copy:

Seventeen-year-old Revna is a factory worker, manufacturing war machines for the Union of the North. When she's caught using illegal magic, she fears being branded a traitor and imprisoned. Meanwhile, on the front lines, Linné defied her father, a Union general, and disguised herself as a boy to join the army. They're both offered a reprieve from punishment if they use their magic in a special women's military flight unit and undertake terrifying, deadly missions under cover of darkness. Revna and Linné can hardly stand to be in the same cockpit, but if they can't fly together, and if they can't find a way to fly well, the enemy's superior firepower will destroy them–if they don't destroy each other first.

The minute I learned the premise of this book I knew I wanted to read it–female friendships, magic, AND airplanes? (More about the airplanes later. I was not prepared for magic living airplanes.)
I very much loved the cast of characters in this book, particularly the all-female magic airforce unit. It reminded me a great deal of history I've read–for example, the US Army Nurse's Corps during WWII. (At first the army thoughtfully provided the nurses with lipstick in their issued gear but not with sanitary napkins or helmets.) Women have always fought, but often they've had to make do with using leftover equipment, being ignored, or worse, actively sabotaged. I enjoyed cheering for the 146th Night Raiders as they struggled against the odds, even while the book deftly wove in discomfort with the nature of the war that the girls were fighting.
Military fantasy and sci-fi always runs the risk of glorifying war and conflict and oversimplifying the dreadful choices that those involved in war must make. I thought We Rule The Night handled this awful ambivalence with great sensitivity and deftness– as a reader I was still solidly hoping that the girls would come out victorious, even as I was sharing their dismay about the war's cost in lives and innocence.
What will you get out of this book? Well, let's recap:
living metal–that's right, metal that has feelings about you
smoking girls!
drinking girls!
girls who engage in fisticuffs!
girls who embroider things ON their cuffs!
all types of girls, is what I'm saying, all of them flying planes and dropping bombs and breaking my heart
creepy shapeshifting secret police
the amazing satisfaction of a character with prosthetic legs telling off everybody who keeps trying to help when SHE DOESN'T NEED THEIR HELP AND THEIR HELP DOESN'T ACTUALLY HELP, THANKS
did I mention all the girls? anyway there's a tall mechanic girl who I am in love with this very moment
angry airplanes
brave airplanes
MORE FISTICUFFS
I love airplanes–it was one of the highlights of Captain Marvel for me to try to figure out which actual aircraft they used as inspiration for Carol's rides–but I was surprised by how attached I got to the living metal planes in this book. I won't spoil anything about them, but I felt like Linné and Revna's plane was a character in her own right, and that's some darn fine storytelling right there.
We Rule The Night comes out on April 2–that's only two more days!! You can order it from Indiebound or Amazon. I recommend the book for anyone who enjoys tea, hanging out with amazing women, Chapter Titles That Would Make Great Tattoos, crying about airplanes, and suddenly wondering whether the cats might be reporting your conversation to the Union.